Business Owner
David Fiebig is a small business owner in property management. He began his business part-time while in management of a successful retail store. His company is invested in real estate of both residential and commercial properties. Since 1991, he has experienced positive growth through hands-on involvement. His office is located in Willoughby Hills.



Public Service & Leadership
Councilman At Large III, City of Willoughby Hills, Chair: Safety, Service, Planning & Zoning, Communications. Member: Finance. Utilities. Alternate Trustee; Chagrin River Watershed Partners. Former Service as an Appointed Member of: Board of Zoning Appeals, Independent Audit Commission, Board member, past President and co-founder of Greater Cleveland Adult Baseball (non-profit), President, Willoughby Eastlake Association for the Gifted and Talented, Treasurer & Board Member, Cleveland State University Ambassadors
Family
Dave is married to Joyce Hribar Fiebig, a Willoughby Hills estate planning attorney and daughter of the noted Slovenian & Euclid attorney, the late Paul J. Hribar. They have two wonderful children, Michael and Joseph, who attend a Willoughby Eastlake School and the
Lakeland Community College.


---

Education

MSM - Masters Degree in Management, Indiana Wesleyan University (4.0 GPA).
BA - Urban Studies (Magna Cum Laude), Cleveland State University Levin College of Urban Affairs.
St. Joseph High School, Cleveland.
Certificate - Ohio Ethics Law 2017

Certificate - Ohio Sunshine Law 2017

BIOGRAPHY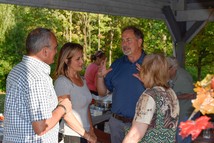 > David M. Fiebig (pronounced fee-big) is currently a Willoughby Hills Councilman at Large. Dave began his community service in 2005 by serving for two years on the city's Board of Zoning Appeals and the Independent Audit Committee. Elected first in 2007, Dave served as the chair of the Planning and Zoning Committee and as a member of the Rules and Legislation committee. in 2013, he was appointed as a Trustee of the Chagrin River Watershed Partners.

As a fiscal conservative, he championed legislation to lower fees on the local community center, brought about reasonable noise ordinances, postal regulation changes, and fought successfully for residents concerned about airport traffic and pollution. He continues to fight for balanced budgets and responsible spending, recently saving the city $32,000 our Mayor wanted to appropriate for a leaf collection machine that Dave procured for free with one phone call to a neighboring community.

As a small business owner, he invests in real estate and manages a property management company. Taking on rehab projects in older houses, and later in commercial property, he values the hard work of restoring value in distressed property and creating suitable housing. He also knows firsthand the struggles of small business employers and the value of creating jobs.

He earned a Masters Degree in Management from Indiana Wesleyan University and a Bachelor of Arts in Urban Studies from Cleveland State University. He was featured in publications and advertising as a non-traditional student who earned distinction through Who's Who among students in American Universities & Colleges and the Golden Key International Honour Society.

For five years, in non-profit leadership, Dave has served as President and co-founder of a baseball organization and also as President of the Willoughby Eastlake Association for the Gifted and Talented (WEAGT), an advocacy group for children in the Willoughby Eastlake schools. He also served as board Treasurer of the Cleveland State University Ambassadors.

Dave is the youngest of seven children born to a 26-year police officer and a proud homemaker. Raised in the Cleveland North Collinwood neighborhood, he played baseball, football, and basketball at Humphrey Field near the old Euclid Beach amusement park. When the amusement park was replaced by a high rise senior housing apartment, Dave learned entrepreneurial skills with 5 AM newspaper delivery. His values of hard work, ethical behavior and the conservative principles of self-reliance and common sense were ingrained at an early age. His grandfather, Hugo, a German immigrant, is said to have helped form the Fraternal Order of Police after his service in the Spanish American war and 40 years with the Cleveland Police.

Dave Fiebig has been involved in numerous organizations and community initiatives such as The Cleveland/Ohio Chapter of the American Planning Association, St. Noel Parish, Willoughby Hills Historical Society, Catholic Order of Foresters, and the Lake County Farm Bureau. He is a youth sports coach, community volunteer, church volunteer, holds a technician class amateur radio license, and has been a senior center computer instructor and charity classic car show organizer. In his younger days, Dave was involved in music, performing with his guitar and vocals, recording in his studio, and serving the music and sound system needs of the community. To stay fit, Dave plays baseball in an "old guy" league that he helped form. Dave still manages to play and record songs he composes in his spare time.

Dave's late father and late father-in-law attended Cathedral Latin High School together. Dave was purchasing a property being sold through Attorney Paul Hribar when he met his wife - by way of her father asking her to witness the signature on a real estate contract. Joyce Hribar Fiebig, is a Willoughby Hills attorney in the probate and estate planning area. They have two sons, Michael and Joseph, who attend the Willoughby-Eastlake Schools and Lakeland Community College, and are proud parents of an Eagle Scout.

---