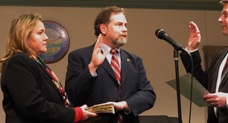 On January 3, 2014, Lake County Probate Judge Mark Bartolotta administered the Oath of Office to Councilman David Fiebig in a ceremony at City Hall attended by nearly 100 people.

---
Thank you for visiting our website!
In my life, I have always tried to say "yes," when asked to step up to serve others or help those in need. Public service is important to me. I have dedicated the past decade in service to Willoughby Hills.
Like many of our neighbors, my wife Joyce and I chose to locate in this community because it is a great place to live, work, and raise a family. Serving the community that I love in our city government is both an honor and pleasure
, as your Councilman-at-Large and serving on boards and commissions.
I encourage you to call, email, or connect with me on social media to discuss any issue.
As always, I'm looking forward to hearing from you!
Thank you,
Dave
Working for Willoughby Hills Newsletter Fall 2014
Working for Willoughby Hills Newsletter January 2015
Working for Willoughby Hills Newsletter March 2015
Working for Willoughby Hills Newsletter August 2015
Working for Willoughby Hills Newsletter October 2015
---